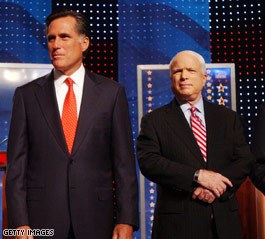 Over the past few days, McCain aired his first TV ad while Romney aired his 10,000th.
WASHINGTON (CNN) - Over the past few days, two presidential candidates marked a "first" in their competing bids for the Republican presidential nomination.
For Arizona Sen. John McCain, the weekend marked the first time he took to the airwaves to tout his candidacy with an ad buy in New Hampshire. But it is the milestone former Massachusetts Gov. Mitt Romney just passed that is head shaking.
Romney is the first presidential candidate to run at least 10,000 political ads this election cycle, according to an analysis conducted by TNS Media Intelligence/CMAG, CNN's consultant on political advertising spending. And there is no White House hopeful in sight to catch up to him anytime soon – unless a candidate immediately opens up the campaign war chest and begins to saturate the airwaves.
"This shows that Romney is a force to be reckoned with, and he clearly is relying on paid advertising and paid media to move his campaign," said Evan Tracey, chief operating office of the TNSMI/CMAG.
Tracey also noted that this is "probably the quietest 10,000 commercials you will ever see" in a presidential campaign, because the ads have aired almost exclusively in Iowa and New Hampshire with a smaller number of runs in South Carolina and Florida.
While it may be the quietest, it has not been the cheapest. Romney has spent approximately $8 million on his ads since he began airing them in February.
In contrast, McCain has spent the better part of the summer rebuilding his campaign after an internal implosion brought it to its knees. Poor fundraising, questionable management of campaign funds and a large expensive staff forced McCain to make a midcourse correction. He is now working with a leaner operation, and he has slowly returned to his old feisty form – a trait that was embraced by supporters and the media in his failed 2000 bid for the Republican presidential nomination.
McCain's ad buy is designed to help him continue to build support in New Hampshire, a state he won in 2000. In the latest CNN/WMUR New Hampshire presidential primary poll - conducted by the University of New Hampshire - McCain checks in at 18 percent, up six percentage points from the July survey.
The path to the Republican nomination for McCain begins in New Hampshire, while his rival, Romney, is eyeing an earlier start.
If there was one candidate in this pack of 2008 presidential contenders hoping to catch a wave out of Iowa to carry him to victories in New Hampshire, South Carolina and Florida before heading into "Super Tuesday," it is Romney. And the former Massachusetts governor is working hard to put himself into position to try and ride the wave to victory. In addition to his ad buys in the state, Romney was the only major candidate to participate in the Iowa Republican Party straw poll in August. He won the contest, which is viewed as a test of organizational strength, by pouring money and resources into the event.
So far, Romney's television advertising strategy appears to be paying off. He leads his GOP rivals in the most recent Newsweek poll of Iowa caucus-goers and remains one of the top choices of New Hampshire Republicans, according to the CNN/WMUR poll. (Romney did see his support slip significantly in the recent CNN/WMUR poll, but he still remains one of the favorites in this crucial early state).
Nationally, it is a different story for the former Massachusetts governor. His name ID remains low, but as one Romney advisor points out it is Iowa Republicans and New Hampshire Republicans who will be the first people to cast votes in the 2008 election.
Tracey said that, up until now, Romney's Republican rivals have "basically ceded the airwaves" to the former Massachusetts governor. But Tracey notes that this will change as we move closer to January. Former New York City Mayor Rudy Giuliani and former Tennessee Sen. Fred Thompson will up the ante once they decide to put an emphasis on television advertising.
On the Democratic side, a review of television ad buying shows that New Mexico Gov. Bill Richardson is the leader in his party, having run more than 4,300 spots in Iowa and New Hampshire. Richardson's decision to invest early in these states appears to be a wise move that has helped boost his candidacy. The Newsweek poll of Iowa caucus-goers has Richardson at 10 percent, while he is running in fourth place in New Hampshire, according to the CNN/WMUR poll. (Richardson did lose ground between the July and September CNN/WMUR polls, but it is support he likely would not have experienced had it not been for his clever "job interview" television commercials).
Meanwhile, the frontrunners for the Democratic presidential nomination have also kept the focus on Iowa and New Hampshire, with the former state getting the most attention. Illinois Sen. Barack Obama has aired more than 3,300 commercials, compared to New York Sen. Hillary Clinton, who has run nearly 1,700 spots.
And while this might seem overwhelming, it is just the beginning. As Tracey notes, the next three months is traditionally the busiest time for political television commercials. If you live in an early voting state, make sure you have the television remote control nearby.
- CNN Political Editor Mark Preston