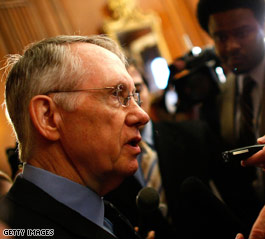 Reid had some harsh words for Rush Limbaugh Monday.
WASHINGTON (CNN) - Senate Majority Leader Harry Reid slammed Rush Limbaugh Monday over his recent controversial "phony soldiers" remark, despite the conservative talk-radio host's protests that his words have been taken out of context.
Limbaugh's comments in question came last Wednesday when he and a caller were discussing critics of the Iraq war:
"What's really funny is, they [Iraq war critics] never talk to real soldiers," the caller said. "They like to pull these soldiers that come up out of the blue and talk to the media."
"The phony soldiers," Limbaugh then said.
Several Democrats released statements late last week condemning the remarks and in a speech on the Senate floor Monday, Reid called the comments "so beyond the pale of decency that it cannot be left alone."
"Just as patriotism is the exclusive realm of neither party, taking a stand against those who spew hate and impugn the integrity of our troops is a job that belongs to all of us," Reid said.
"I can't help but wonder how my Republican colleagues would have reacted if the tables were turned – if a well-known Democratic radio personality had used the same insulting line of attack against troops who support the war," the Nevada Democrat added.
Responding to his critics on Friday's show, Limbaugh said he was "taken out of context," adding his remark was referring to one soldier specifically - Jesse MacBeth, a vocal war critic who falsely claimed to have served in Iraq.
"The effort here is simply to discredit people that they consider effective and powerful on the right ginning up, leading up into the '08 elections," Limbaugh said Friday.
Click here to see CNN's new political portal: CNNPolitics.com
- CNN Ticker Producer Alexander Mooney