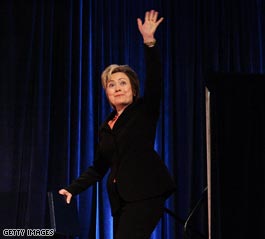 On Wednesday, Sen. Hillary Clinton addressed recent media scrutiny of her laughter.
WASHINGTON (CNN) – Democratic presidential frontrunner Hillary Clinton used the occasion of Wednesday's endorsement announcement from the American Federation of Teachers to take a light-hearted crack at the New York Times over what the paper has dubbed "The Clinton Cackle."
"I don't want to go on too much longer, because it might cause me to laugh, and then you know, heaven knows what we'd hear about for the next week," she said at the conclusion of her acceptance speech to the laughter of both the AFT members and media present.
Earlier this week, the Times published a 962-word piece analyzing the New York senator's use of laughter during interviews and debates. The article suggested different motivations for different uses of "The Cackle," which the paper said was a term coined by Clinton's friends.
"You gotta have a sense of humor in this business we're in," she concluded.
- CNN Assignment Editor Katy Byron