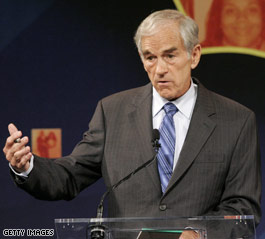 Ron Paul raked in an impressive fundraising total.
WASHINGTON (CNN) - He's locked in low single digits in most polls, but Texas Rep. Ron Paul raised more than $5 million for his presidential bid in the third quarter, roughly equal to or just short of several of his higher -profile rivals.
"Dr. Paul's message is freedom, peace and prosperity," Paul campaign chairman Kent Snyder said in a statement announcing the total. "As these fundraising numbers show, more Americans each day are embracing Dr. Paul's message."
Paul's fundraising total is a 114-percent increase over what he raised last quarter and is also only $2 million shy of what Democratic White House hopeful John Edwards raised during the same period. It is also roughly equal to the fundraising totals of Arizona Sen. John McCain and New Mexico Gov. Bill Richardson.
- CNN Ticker Producer Alexander Mooney