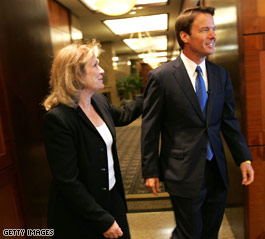 Elizabeth Edwards said her husband John didn't want to concede the 2004 election.
WASHINGTON (CNN) - Elizabeth Edwards, the wife of Democratic presidential candidate John Edwards, criticized Sen. John Kerry, D-Massachusetts, Thursday over his decision to concede the 2004 election to President Bush so quickly after election night.
Mrs. Edwards, whose husband was the vice presidential nominee in 2004, said in an interview with Air America's Richard Greene she was "very disappointed" then-Democratic presidential nominee John Kerry chose not to contend the election result in the crucial swing state of Ohio - where he lost by approximately 120,000 votes.
"I was very disappointed, not just because we did not count the votes, but because we promised people that if they stood in line and fought for the right to vote, that we would fight with them," Mrs. Edwards said. "And I was very disappointed that the decision was made by the campaign, over John's objection, not to fight."
Mrs. Edwards added that reported voting irregularities in Ohio caused "a lot to be suspicious about" and said the real winners of the 2004 election would likely never be known.
"I don't think we're going to ever know [who won] and that's a shame," she said. "Certainly there's a lot to be suspicious about."
"We're never going to have the kind of certainty we need to have," Mrs. Edwards continued. "I don't care if I find out the evening in the first Tuesday of November. If I don't find out until Friday who the president is but I am pretty sure it's the right answer, that's fine with me."
Conceding the election in Boston the day after polls closed, Kerry said, "The outcome should be decided by voters, not a protracted legal process. I would not give up this fight if there was a chance that we would prevail, but it is now clear that even when all the provisional ballots are counted, which they will be, there won't be enough outstanding votes for us to be able to win Ohio."
- CNN Ticker Producer Alexander Mooney