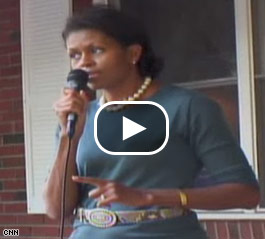 Watch Michelle Obama on the stump in New Hampshire Friday.
NASHUA, New Hampshire (CNN) - For those who have questioned the tenacity of Barack Obama's presidential campaign, his wife , Michelle, is fired up. In an emboldened speech Friday, Obama answered critics of her husband's professional qualifications and declared he can "stand up to Republicans."
"Don't worry about whether Barack Obama is ready–because he's ready. Michelle Obama is ready. We're in this," she said. "We've already made the sacrifice. We've already suffered through the pains of a political process. We've invested our life in this."
On experience, Mrs. Obama addressed the issue head on calling him "one of the most experienced" people and pointed to his success as a first-term senator from Illinois.
"Trust me, Illinois is not bean bag politics. It's mean, vicious politics. So if people want to know, can he stand up to the republicans? Trust me, I've seen it. We've experienced it. We come out of Chicago, that's hard politics. And to be able to do it and be successful and still maintain a level of integrity and respect among your peers is a real accomplishment."
Obama also took the opportunity to ask for the support of voters in a key state where her husband trails Democratic frontrunner Hillary Clinton by wide margins in the polls.
"I know that if I can talk to every single voter, they're going to vote for Barack Obama. I know that. Deep in my heart, if Barack Obama can talk to every voter, there will be no question," Mrs. Obama said to to the crowd.
"But we can't, we can't be everywhere, we can't talk to everyone , that's why New Hampshire is important, because you get to know us... you can be our validators and that's how we make change."
- CNN New Hampshire Producer Sareena Dalla