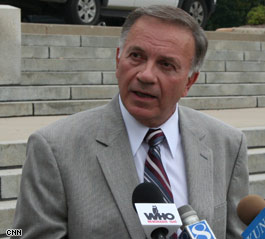 Rep. Tom Tancredo, R-Colorado, held a press conference on the steps of the Iowa State Capitol Friday.
DES MOINES, Iowa (CNN) - Republican presidential candidate Tom Tancredo said Friday that if he were an Iowa resident, he'd sign a petition calling for the impeachment of Polk County District Judge Robert Hanson.
Hanson overturned Iowa's state ban on same-sex marriages in August. Hanson has since issued a stay on his ruling.
At a press conference on the steps of the Iowa State Capitol, Tancredo, a Republican congressman from Colorado, denounced Hanson, calling him an "activist judge."
"I believe Judge Hanson is flat wrong to say the state of Iowa, through its legislature, has no legitimate interest in the regulation of the institution of marriage," Tancredo said. "You might as well say the state has no legitimate interest in regulating the validity of commercial contracts or prohibiting prostitution or public execution."
"If a community cannot limit marriage to a man and a woman, how can it stop two men and a woman or three women and two men from declaring a communal marriage?" Tancredo continued. "If a child is just as well off with two mommies instead of a mother and a father, why is it not even better off with four momies or three daddies?"
He said the solution to the problem of activist judges in regard to this issue is a federal ban on gay marriage.
"If the Constitution needs to be changed, and in this case it apparently may need to be as a result of the actions taken by this judge, then there's a way to do it: it's an amendment process, and that's what I propose."
-CNN Iowa Producer Chris Welch