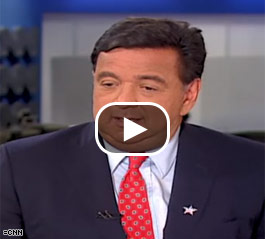 Watch Richardson weigh in on Obama's lack of a flag pin.
WASHINGTON (CNN) - Sen. Barack Obama's, D-Illinois, decision not to wear an American Flag pin was dismissed as a non-issue Friday by two of his rivals for the Democratic presidential nomination.
Sen. Hillary Clinton, D-New York, said she didn't know if it was a "serious issue" that Obama didn't wear a pin and added, "There are so many ways that Americans can show their patriotism." (Video: Clinton weighs in on the flag pin)
"Wearing a flag pin. Flying the flag. Pledging allegiance to the flag. Talking about the values of America. Teaching your children about what a great nation we have. Standing up for those values. Speaking out. There's just so many ways one can demonstrate patriotism," Clinton said in a press conference.
She added that she wears her pin "from time to time."
Meanwhile, CNN's Don Lemon asked New Mexico Gov. Bill Richardson, who was wearing a flag pin at the time, what he thought of the matter.
"Patriotism is what you do and I don't think anyone should - if you feel good about wearing it, wear it," he said. "I wear it. It's perfectly good to wear it. I love this flag. I love this country. I wear it. But patriotism is about what you do, not what you say."
Obama told a KCRG-TV reporter this week that he has made a conscious decision not to wear the pin.
"I decided I won't wear that pin on my chest," the Democratic presidential candidate told the reporter in Iowa City, Iowa. "Instead, I'm going to try to tell the American people what I believe will make this country great. Hopefully that will be a testimony to my patriotism."
- CNN Ticker Producer Alexander Mooney