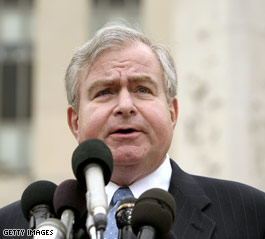 The Clinton campaign downplayed Berger's role Monday.

WASHINGTON (CNN) - Sen. Hillary Clinton's presidential campaign downplayed a report in the Washington Examiner Monday that former National Security Adviser Sandy Berger is advising the New York Democrat's White House bid.
"Like many people he offers advice, but he has no official role in the campaign," a Clinton aide told CNN's Candy Crowley.
The Washington Examiner reported in its Monday edition that Berger, who pleaded guilty two years ago to illegally removing classified documents from the National Archives and intentionally destroying some of them, has taken an informal role in Clinton's campaign, similar to the one he held in Sen. John Kerry's 2004 presidential campaign.
Berger, who offered the Massachusetts Democrat advice on foreign policy issues, resigned from the campaign in July 2004 as the investigation into his actions at the National Archives was heating up.
Berger served as national security adviser to former President Clinton from 1997-2001.
Click here to CNN's new political portal: CNNPolitics.com