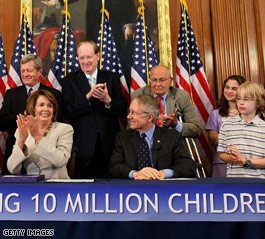 Democratic members of Congress applaud shortly after signing legislation for the Children's Health Insurance Program (CHIP) legislation
WASHINGTON (CNN) - As House members are at home for the Columbus Day weekend, a coalition of labor and advocacy groups, including the AFL-CIO and MoveOn.org, is stepping up the battle over the federal children's health-care program, known as SCHIP. The coalition rolled out a nearly $1 million television ad campaign and is targeting about 20 Republicans to vote to override the president's veto of the bill.
The national ad, sponsored by Americans United for Change, an umbrella group of liberal organizations, is running on cable networks. It includes images of a baby and other children with an announcer saying "George Bush just vetoed Abby." The coalition also promises to rally activists in districts of another 20 House Republicans over the next two weeks.
This push by Democratic groups comes on top of the Democratic Congressional Campaign Committee's efforts to zero in on eight House Republicans who opposed the bill. The campaign arm started running radio ads and funding automated calls to voters last week in districts it considers competitive for Democratic challengers.
- CNN Congressional Producer Dierdre Walsh