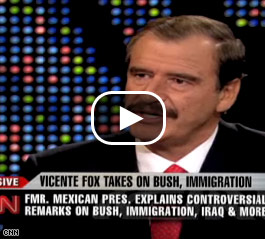 Watch portions of Larry King's interview with Vicente Fox Monday.
WASHINGTON (CNN) - He wouldn't say which presidential candidate he supports by name, but former Mexico President Vicente Fox made clear Monday on CNN's Larry King Live who he hopes will be the next occupant of the White House.
"A lady would be my choice," the man who served as Mexico's president from 2000-2006 said, when asked if he had a favorite in the White House race.
Asked if he was referring to Democratic frontrunner Hillary Clinton, Fox repeated that he'd prefer a woman in the White House.
"There ain't no other lady running," King noted.
"I think that women show their vision, their capacities, their emotions, their passion, their compassion," Fox continued. "And to me governments and politicians need huge doses of that of religion, of spiritual values, of letting themselves be guided by God and not just polls."
Fox also said former President Bill Clinton is an "inspiration" and said Clinton, along with former President Jimmy Carter, have shown "that there is life after the presidency."
In the wide-ranging interview, Fox also commented on the controversial and at times blunt remarks about President Bush in his new book, "Revolution of Hope."
In the book, which hit stores last week, Fox calls the president "the cockiest guy I have ever met in my life," and is sharply critical of the Bush's Iraq policy and his immigration stance."
"Among friends, you have to be very frank," Fox said of his comments. "And I tried to express very candidly in this book my first impressions in meeting President Bush and other leaders and how the relationship developed."
Fox also said that he meant to praise the president when he called him cocky.
"To me, it's praise, because, you know, that's a key characteristic of a leader and a president," he said. "He must have self- confidence. But also he must be humble and listen to people and try to raise from people what will be his public policies."
But Fox wasn't entirely complimentary of his neighbor to the north, offering a sharp critique of Bush's 'cowboy' skills.
"When you have been riding horses since you were two years old, you can notice when somebody gets near in his hand, in the way he touches the horse, you immediately know that he's not a cowboy," Fox said of the president.
Fox also continued that he calls Bush a "windshield cowboy," because of "his invitation to spend two days [on the Crawford Ranch], and for the two days we would be talking in a very profound dialogue on him driving the truck and going along the ranch. He drives very well, but I don't think he rides horses very well."
The former Mexico president also touched on the hot button issue of illegal immigration, saying he was for an "orderly" and "legal" flow across the borders.
"Let's decide an immigration reform so that we can have an orderly flow of immigration so that only those that have a job here can stay cause they are hired by families, they are hired by small businesses, they hired for construction, they are hired to pick up apples in Washington, crops of vegetable in California," he said.
"I saw them building casinos in Las Vegas, Fox added."You need them here. This economy needs 400,000 new jobs a year coming from abroad because you don't have employees."
- CNN Ticker Producer Alexander Mooney