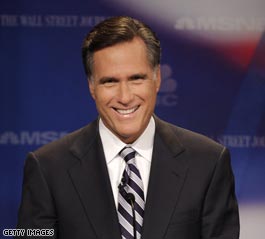 Mitt Romney took a shot at Fred Thompson's well-known acting gig on a crime drama.
(CNN) - How is the race for the White House like an episode of NBC's "Law and Order?" Former Massachusetts Gov. Mitt Romney explained during Tuesday's Republican presidential debate in Dearborn, Michigan.
"This is a lot like 'Law and Order,'" Romney said. "It has a huge cast. The series seems to go on forever, and Fred Thompson shows up at the end."
Thompson, the former Tennessee senator and former co-star on the long-running crime series, laughed at the jab at his late entrance into the GOP race and the comparison to his television alma mater.
"And to think, I thought I was going to be the best actor on the stage," Thompson said.
- CNN Associate Producer Lauren Kornreich