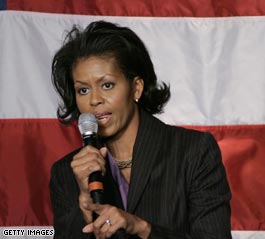 Mrs. Obama was on her way to a campaign event when the accident happened.
(CNN) - Michelle Obama, the wife of Democratic presidential candidate Barack Obama, escaped injury Tuesday when her campaign van was involved in an accident in Hampton, Iowa. A motorcyclist who struck the van was injured.
The accident happened as she was en route to a campaign stop. A motorcycle collided with the van on U.S. Highway 65 in the central part of the state.
The Obama campaign said in a statement, "The motorcyclist was transported to a nearby hospital, and Barack and Michelle's thoughts and prayers are with him and his family at this time. Neither Mrs. Obama nor any members of the campaign staff were injured in the accident."
Police identified the motorcyclist as Timothy Scott Emerson, 41, of Iowa Falls, Iowa. He was taken by medical helicopter to Mercy Medical North Hospital, where a nursing supervisor said he was treated and released.
A report from the Hampton Police Department said the van carrying Michelle Obama was trying to make a left turn when it was struck. The motorcycle, which was three vehicles behind the campaign van, attempted to pass and struck the left side of the van, the report said, while traveling on the wrong side of the road.
The campaign event she was headed to was canceled.
Click here to see CNN's new political portal: CNNPolitics.com
- CNN's Steve Brusk, Devon Sayers and Chris Welch contributed to this report