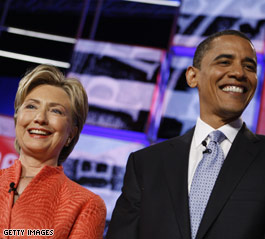 Obama told CNN Thursday it's time to show where he differs from Clinton.
WASHINGTON (CNN) - Democratic presidential candidate Barack Obama told CNN Thursday he will step up efforts to clarify his differences with rival Hillary Clinton, in what the Illinois senator is calling the "next phase" of his campaign.
"There's no doubt we are moving into a different phase of the campaign," Obama told CNN's Wolf Blitzer in an interview slated to air on The Situation Room later today. "The first part of a campaign is to offer some biography and give people a sense of where I've been and what I am about. (Related: Obama: Clinton vote on Iran shows 'flawed' judgment)
"In this next phase we want to make sure that voters understand that on big issues, like the decision to go into the war in Iraq, I had real differences with the other candidates and that reflects on my judgment," he continued.
In what could easily be seen as a direct shot at Clinton, Obama also suggested he could better unite the country and offer "something new, as opposed to looking backwards and simply duplicating some of the politics that we've become so accustomed to that frankly the American people are sick of." (Video: Watch key excerpts of Wolf Blitzer's interview with Obama Thursday)
The Illinois Democrat would not say whether he would consider Clinton as his running-mate should he become the party's nominee, saying, "I think Sen. Clinton is a very capable person. Right now my goal is to make sure I am the nominee and she is still the senator from New York."
Catch the full interview tonight on The Situation Room, 4, 5, and 7 p.m. ET.
TIME.com: Clinton Selling Substance Over Style in Iowa
- CNN Ticker Producer Alexander Mooney