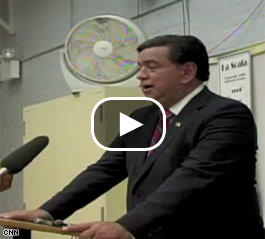 Watch Richardson criticize Clinton Thursday.
MANCHESTER, New Hampshire (CNN) - Moments after delivering a speech outlining his education reform plan, New Mexico Gov. Bill Richardson criticized New York Sen. Hillary Clinton for her decision to leave her name on Michigan's January 15 Democratic primary ballot.
"I signed a pledge not to campaign in Michigan because I respect the sanctity of Iowa and New Hampshire. I noticed that Senator Clinton didn't do that. She wants to have it both ways. She thinks she's the nominee, so she doesn't want to alienate Michigan voters."
Earlier this week, Richardson, Illinois Sen. Barack Obama, Delaware Sen. Joe Biden, former North Carolina Sen. John Edwards, and Ohio Rep. Dennis Kucinich all officially withdrew their names from Michigan's ballot in order to comply with the DNC's rules.
"She's not the nominee," Richardson repeated. "You've got three months to go, and.... I'm moving up. This is going to be a contest. The voters of New Hampshire and Iowa have not made up their mind."

–CNN New Hampshire Producer Sareena Dalla