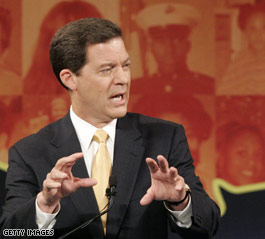 Sen. Sam Brownback will join Sen. Joe Biden in Iowa on Friday to discuss their Iraq plan.
WASHINGTON (CNN) – The Oscar and Felix of politics? Sen. Joe Biden, D-Delaware, and Sen. Sam Brownback, R-Kansas, would be strong contenders for "The Political Odd Couple of the Year Award" – if one existed.
Biden is seeking the Democratic presidential nomination, while Brownback is running for the GOP presidential nod. On matters of policy, they don't share that much in common – except what to do about Iraq.
So, the two presidential hopefuls will meet up in Des Moines, Iowa, Friday to talk about their plan to bring stability to the war torn nation. Specifically, the two senators will discuss their legislation that calls for decentralizing Iraq's federal government and giving more control to local and regional groups. Their amendment passed easily in the Senate last week.
Click here to see CNN's new political portal: CNNPolitics.com
"Partisan politics must not come in the way of finding a solution to the war in Iraq," Biden said in a statement. "The overwhelming majority of Americans want us to get our troops out of Iraq as quickly as possible without leaving chaos behind."
Brownback added, "Joe and I might be running for the nomination of two different parties, but we agree on one thing: the American people want progress in Iraq and this represents a viable way forward to stability and success. Decentralizing power in Iraq offers the best chance for Iraqis to live in a peaceful, united country where they can resolve their differences. It is time to begin the political surge we desperately need to help stabilize Iraq so we can get our troops out of harm's way."
- CNN Associate Producer Lauren Kornreich