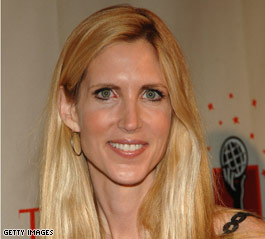 Conservative commentator Ann Coulter.
WASHINGTON (CNN) - Conservative commentator and best-selling author Ann Coulter may find herself in the midst of a controversy for comments Monday suggesting America would be better if everyone was Christian.
Asked by CNBC host Donny Deutsch what the U.S. looks like in her dreams, Coulter said it would look like the Republican National Convention in 2004
"People were happy," she said, according to a transcript provided to CNN by CNBC. "They're Christian. They're tolerant. They defend America." (Video: Watch Coulter's comments on CNBC)
When Deutsch responded, "It would be better if we were all Christian?" Coulter said "Yeah."
Deutsch, himself Jewish, continued to press Coulter on her remarks, asking, "We should just throw Judaism away and we should all be Christians then?"
"Yeah," Coulter responded, adding "Well, it's a lot easier. It's kind of a fast track."
"You can't possibly believe that," Deutsch responded. "You can't possibly. You're too educated."
"Do you know what Christianity is?" Coulter replied. "See, we believe your religion, but you have to obey. We have the fast track program."
Later in the interview Deutsch asked Coulter if she doesn't want any Jews in the world, Coulter responded, "No, we think - we just want Jews to be perfected, as they say."
"Wow, you didn't really say that, did you," Deutsch said.
Click here to see CNN's new political portal: CNNPolitics.com
"Yeah, no," Coulter replied. "That's what Christianity is. We believe the Old Testament, but ours is more like Federal Express. You have to obey laws. We know we're all sinners."
Deutsch said he was personally offended.
"No. I'm sorry. It is not intended to be," she said. "I don't think you should take it that way, but that is what Christians consider themselves: perfected Jews. We believe the Old Testament. As you know from the Old Testament, God was constantly getting fed up with humans for not being able to live up to all the laws. What Christians believe - this is just a statement of what the New Testament is - is that that's why Christ came and died for our sins. Christians believe the Old Testament. You don't believe our testament."
Deutsch continued to call Coulter's comments anti-semetic.
"No, no, - I don't want you being offended by this," she responded. "This is what Christians consider themselves, because our testament is the continuation of your testament. You know that. So we think Jews go to heaven. I mean, [the late Rev. Jerry] Falwell himself said that, but you have to follow laws. Ours is "Christ died for our sins." We consider ourselves perfected Christians. For me to say that for you to become a Christian is to become a perfected Christian is not offensive at all."