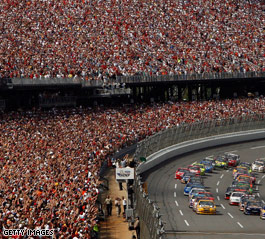 Fans watch race action during the NASCAR Nextel Cup Series UAW-Ford 500 at Talladega Superspeedway last weekend.
WASHINGTON (CNN) - Congressional Republicans Thursday seized on a Democrat's recent suggestion that his aides get immunized before attending NASCAR events, claiming such a recommendation shows a "disconnect" with America.
Asking in a press release whether Democrats are "allergic to NASCAR nation," the National Republican Congressional Committee wrote, "While red-blooded, patriotic Americans were packing their coolers and gathering their families in preparation of attending last week's race at Talladega, a leading Democrat was advising staff to get immunized."
The NRCC is referencing Mississippi Rep. Bennie Thompson, the chairman of the Homeland Security Committee, who advised aides to get immunized against hepatitis A, hepatitis B, tetanus, diphtheria, and influenza before heading to the NASCAR event. The aides were on a fact finding mission on health preparedness at large events.
"Maybe the House Homeland Security Chairman Bennie Thompson was afraid his fellow Democrats might come down with a case of Red State Republicanism after coming in contact with hundreds of thousands of regular Americans attending the event," the NRCC said in its release. "No matter what his reasoning, Thompson's ignorant behavior is inexcusable and clearly exposes the fundamental disconnect between the Democrat-led Congress and the rest of America."
The NRCC's statement follows a strongly-worded letter to Thompson Friday from Rep. Robin Hayes, R-North Carolina, which said, "I have been to numerous NASCAR races, and the folks who attend these events certainly don't pose any health hazard to congressional staffers or anyone else."
Responding in a letter Wednesday, Thompson wrote, "Since committee staff members are visiting hospital and other health-care facilities available at or near these venues, including areas where groups of people are detained before being transferred to other off-site facilities, I believe that the recommendation (not requirement) that our congressional staff receive these same immunizations was sound."
- CNN's Alexander Mooney and Deirdre Walsh