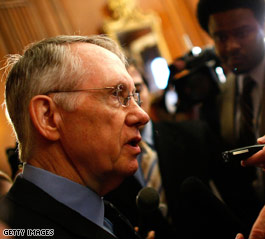 Sen. Harry Reid predicted Hispanics will back Democrats in 2008.
WASHINGTON (CNN) - The Hispanic vote is key to winning Nevada in 2008, Senate Majority Leader Harry Reid told reporters Thursday in a conference call. And the Nevada Democrat predicted that this important voting bloc will back his party's presidential nominee next year.
Reid claimed the Democratic Party's outreach efforts to the Hispanic community, as well as the Republican Party's stand on immigration reform will drive Hispanic voters away from the GOP.
In Nevada, Reid said Democrats have been using "creative" methods to reach out to potential voters such as starting an adult soccer team and creating a Spanish language Web site.
"The potential power is already there," said Reid, who added, "Any candidate that wants to win Nevada has to carry the Hispanic vote."
National Democrats have also elevated Nevada onto a special stage by sanctioning it as one of the first four states to hold a presidential nominating contest in 2008. And next month, Las Vegas will host a Democratic National Committee presidential debate that will be televised on CNN.
- CNN Associate Producer Lauren Kornreich