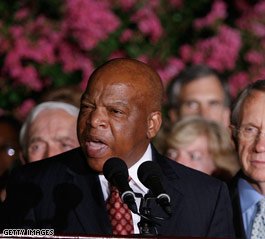 Lewis endorsed Clinton Friday.

WASHINGTON (CNN) - Rep. John Lewis, D-Georgia, a leading civil rights figure in Congress, endorsed Sen. Hillary Clinton for the Democratic presidential nomination Friday.
"I have looked at all the candidates, and I believe that Hillary Clinton is the best prepared to lead this country at a time when we are in desperate need of strong leadership," Lewis said in a statement posted on the Clinton campaign's Web site. "She will restore a greater sense of community in America, and reclaim our standing in the world."
Lewis plans to appear with Clinton at an event at noon in Atlanta.
The endorsement could help Clinton, the front-runner, increase support in the African-American community. Sen. Barack Obama, her competitor who is himself African-American, has fought for the support of black voters.
Lewis appeared with both Clinton and Obama during appearances in March marking the anniversary of Bloody Sunday, the famed March for voting rights in Selma, Alabama that helped lead to passage of the Voting Rights Act.
"Barack Obama has great admiration for John Lewis and understands his long relationship with Bill Clinton," Obama spokesman Bill Burton said Friday.
The Obama campaign also emphasized that it has increased its presence in Georgia in recent weeks. And Burton noted that Obama has the support of the Rev. Jesse Jackson, a leading civil rights figure.
However, in a recent conversation with the Los Angeles Times editorial board, Jackson was quoted as saying, "I've said I would vote for Barack because he's my neighbor. I have very strong feelings for Hillary because we've worked together 30 years. I'm not really campaigning for anybody."
Click here to see CNN's new political portal: CNNPolitics.com
- CNN's Steve Brusk, Lauren Kornreich, and Sasha Johnson contributed to this report