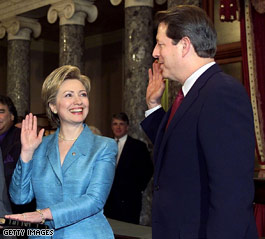 Then-Vice President Gore swears in newly elected Clinton to the U.S. Senate, January 3, 2001.
WASHINGTON (CNN) - A source involved in Gore's past political runs told CNN that he definitely has the ambition to use the peace prize as a springboard to run for president.
But he will not run, because he won't take on the political machine assembled by Sen. Hillary Clinton, said the source. If the senator from New York had faltered at all, Gore would take a serious look at entering the race, the source said. But Gore has calculated that Clinton is unstoppable, according to the source.
Gore repeatedly denied he has any plans to run again, but this week a group of grass-roots Democrats calling themselves "Draft Gore" took out a full-page ad in The New York Times in a bid to change his mind. (Watch more on the movement to draft Gore)
Related: Nobel Prize likely to increase pressure on Gore to run
Video: Gore talks with CNN's Wolf Blitzer last month
Click here to see CNN's new political portal: CNNPolitics.com
- CNN White House Correspondent Ed Henry