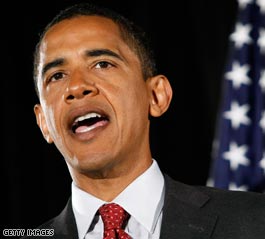 Obama spoke at an interfaith forum in Des Moines, Iowa on Sunday.
DES MOINES, Iowa (CNN) - Sen. Barack Obama, D-Illinois, said Sunday that the separation of church and state should not force the people of the United States to "leave [their] religion at the door before entering the public square" and that, indirectly, faith informs politics.
"Our faith informs our values, and I think we'd all agree that our values inform our politics more than they have over the last six years," the Illinois senator said at an interfaith forum in downtown Des Moines.
Obama said that too often religious leaders use faith to "exploit what divides us" by saying that the only issues that matter are abortion, gay marriage, school prayer, and intelligent design.
"Everyone in this room knows that's not true," Obama said.
He said there are other challenges that can unite people of faith, one of them being the issue of climate change.
"The bible tells us that when God created the earth, he entrusted us with the responsibility to take care of that earth," he said. "It is a responsibility to ensure that this planet remains clean and safe and livable for our children, and for all of God's children."
"Science has made it undeniably clear that our generation is not living up to this responsibility."
Obama also took a moment to praise former vice president and recent Nobel Prize-winner Al Gore for his work on global warming.
"I think all of us give great thanks to him for his extraordinary dedication, his extraordinary service, [and] his grace after a bitter defeat to rise up and actually transcend and do even more than one could have ever imagined to help highlight this issue."
Click here to see CNN's new political portal: CNNPolitics.com
-CNN Iowa Producer Chris Welch