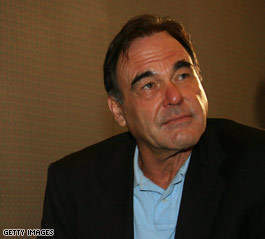 Oliver Stone pressed John Edwards on the Patriot Act in an interview for Fad In magazine.
WASHINGTON (CNN) - They are already some of Hollywood's leading men, but can Ben Affleck, Oliver Stone, and Michael Douglas also become the political world's leading interviewers?
The three Hollywood celebs each recently grilled a leading Democratic presidential candidate for the latest issue of Fade In magazine and hit on a variety of hot-button issues, according to excerpts released by the publication.
Affleck, who has endorsed Barack Obama's White House bid, interviews rival Hillary Clinton. He asks the New York Democrat whether leaving Iraq might increase the terrorist threat there.
"That's another one of the scare tactics that the president uses," she replies. "We were attacked before we ever went into Iraq. Other countries have been attacked by al-Qaida, or al-Qaida-linked terrorists, in the years since we invaded Iraq. We're going to be living with the threat of global terrorism, and we've got to get smart about how we deal with it.…I just fundamentally disagree with President Bush's analysis and his continuing beating of the drum of fear as the substitute for reason and understanding of the very difficult options we face."
The two also discuss being parents ("The best thing in the world," Clinton says), aid to Africa, and Affleck's interview skills. ("You're pretty good," Clinton notes. "If you ever got it in your mind to do that, you'd wipe up.")
Meanwhile, famed director and conspiracy theorist Oliver Stone questions former North Carolina Sen. John Edwards over his continued support of the Patriot Act.
"There are still things wrong with it, but there are parts of it that I support. We have to be really [clear for] the readers," Edwards says. "The Patriot Act has nothing to do with Guantanamo, torture [or] illegal spying on Americans. People tend to lump everything into the Patriot Act. There were things in the Patriot Act that needed to be done."
Stone also says he approves of Edwards' favorite movie (The Shawshank Redemption), and the presidential candidate acknowledges he's seen the film "five or ten" times.
Finally, Michael Douglas asks former New Mexico Gov. Bill Richardson what the most difficult part of running for president is.
"The excessive dependence on fundraising," Richardson answers. "One out of two days I spend on raising funds, either calling donors or going to fundraisers. That, I feel, is very debilitating in this process [of running] for president. It should be that we're all candidates engaged in debates and talking to voters rather than raising funds."
- CNN Ticker Producer Alexander Mooney