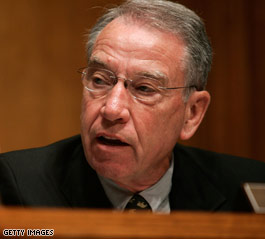 Grassley's endorsement could prove pivotal in Iowa.
WASHINGTON (CNN) - Republican presidential candidates Rudy Giuliani and Mitt Romney met separately Tuesday on Capitol Hill with Sen. Charles Grassley, the veteran Republican senator from Iowa whose endorsement could be pivotal to winning the state's caucuses, CNN has learned.
"Oh, we want all the endorsements we can get but that wasn't the purpose of it," Giuliani told CNN as he was departing Grassley's Hart building office.
"We talked about the campaign. We talked about Iraq. We talked about Iran. We talked about the farm bill. We talked about Iowa. "Gosh, we talked about many, many things."
But later his spokeswoman, Katie Levinson, confirmed to CNN the two men "had some very serious policy discussions, and yes, we asked for his endorsement."
The nearly one-hour meeting came just a few hours after Romney sat down with the fifth-term senator, who is an influential icon of Republican politics in Iowa. The scheduling of the meetings on he same day was a "coincidence," according to the Grassley's spokeswoman, Jill Kozeny.
Both candidates were in town to address the Republican Jewish Coalition.
Romney had several meetings on Capitol Hill Tuesday, said his spokesman, Kevin Madden. Besides Grassley, Romney met with House members who support his campaign. Madden would not discuss what Romney and Grassley talked about.
"Grassley said he'll meet with anyone who asks and he hasn't decided when, or if, he'll endorse a candidate in the caucus contest," Kozeny said. He met recently with GOP candidates Fred Thompson and Mike Huckabee.
In past elections, Grassley endorsed George W. Bush in 2000 and Bob Dole in 1996 and 1988. He didn't endorse a candidate in 1980, when Ronald Reagan was elected.
Asked about his meeting with the former New York mayor, Grassley declined to comment, saying the meeting was private.
- CNN Congressional Producer Ted Barrett