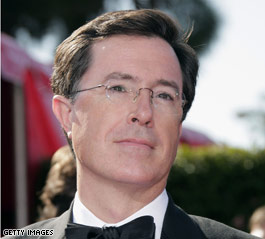 Colbert said Tuesday he will run for president in South Carolina.
WASHINGTON (CNN) - He hinted at a possible run for the White House on CNN's Larry King last week, but Comedy Central host Stephen Colbert made it official Tuesday night: he's jumping into the presidential race in his home state of South Carolina.
"After nearly 15 minutes of soul-searching, I have heard the call….I am hereby declaring that I will enter the presidential primary in my native South Carolina, running as a favorite son," Colbert said on his show Tuesday night. "I defy any other candidate to pander more to the people of South Carolina - those beautiful, beautiful people."
South Carolina is one of four lead-off primary states that will likely play a crucial role in determining the eventual nominee of both parties.
On Larry King last Thursday, Colbert laid out his potential electoral strategy, saying he'd see how he did in South Carolina before deciding to move on to other states. (Watch Colbert discuss his political life on CNN's Larry King)
"I think maybe there's something I could offer the campaign on a state-by-state basis," he said. "I would target a state individually…a test run."
Colbert, author of the recently released "I Am America (And So Can You!)," also told King he'd seek to run as both a Democrat and Republican.
"I'd let the people decide what party I belong in," he said. "I don't dictate the people's actions."
In the interview with King, Colbert also brushed aside suggestions that it was a "cop out" to run in both parties, calling it instead courageous, because, "I could lose twice." (Related video: Watch more of Larry King's interview with Colbert)
In the slim chance that he wins a party's nomination, Colbert said Tuesday he'd consider either Republican presidential candidate Mike Huckabee, Russian President Vladimir Putin, or himself for a running mate.
"Colbert-Colbert - that's a strong ticket," he argued.
Click here to see CNN's new political portal: CNNPolitics.com
- CNN Ticker Producer Alexander Mooney