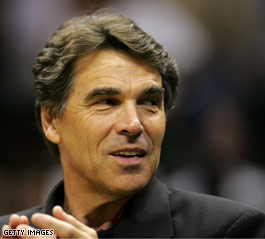 Texas Gov. Rick Perry endorsed Giuliani's presidential bid Wednesday.
WASHINGTON (CNN) – Republican presidential candidate Rudy Giuliani, trying to win support of conservatives despite differences on some social issues, Wednesday gained support from an opponent of his abortion stand.
Texas Governor Rick Perry announced his endorsement of the former New York Mayor at a Washington news conference. Giuliani was at Perry's side for the endorsement, made shortly before the Republican White House hopeful addressed the Club for Growth fall convention.
Perry, who opposes Giuliani's position on abortion, said that was his biggest concern before making his decision. But the Texas Republican said he is confident Giuliani would nominate Supreme Court justices like conservatives John Roberts, Antonin Scalia and Samuel Alito.
Texas had considered moving up its primary to February 5th, but the Lone Star State's contest will stay in March.
Click here to see CNN's new political portal: CNNPolitics.com
- CNN Political Desk Managing Editor Steve Brusk