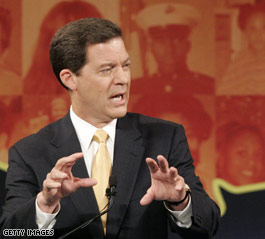 Brownback will make a 'major announcement,' CNN has learned.
WASHINGTON (CNN) - Republican presidential hopeful Sam Brownback, dogged by low poll numbers and a poor fundraising showing last quarter, has decided to abandon his bid for the White House, people close to the senator tell the Associated Press.
Meanwhile, a campaign source tells CNN's Chief National Correspondent John King that all scheduling has been put on hold pending a "major announcement" from the Kansas Republican.