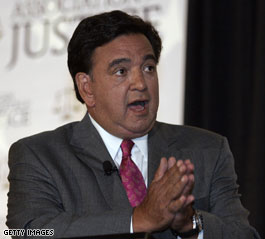 New Mexico Governor Bill Richardson
DES MOINES, Iowa (CNN) — Democratic hopeful Bill Richardson accused the Bush administration Thursday of "helping dictators all over the Middle East."
"Instead of giving assistance to developing countries [based] on human needs, on micro-lending, on renewable energy, we're giving U.S. foreign aid to build palaces and to corrupt dictators that are not helping us," Richardson said.
The New Mexico governor specifically targeted the administration's relationship with Pervez Musharraf, the current president of Pakistan.
"I would not give him the kind of assistance we give him unless he does something about the safe havens of the terrorists. We have too cozy of a relationship with Musharraf."
Richardson made the comments while speaking with reporters in Des Moines
following a speech on 21st century global threats.
When asked if he felt Musharraf's government is a legitimate one, Richardson
said, "He was elected in a way that does not support legitimacy. He should have free and fair elections."
He immediately added that Musharraf "is the leader there," but that the United States should still be able to inflict diplomatic pressure.
"Pakistan is a strategic ally, but we should use our leverage on [Musharraf] to go after the terrorists and to become more democracy-oriented, like have an election," Richardson said.
UPDATE: Responding to an initial posting of this story, RNC spokesman Brian Walton told CNN in a statement, "When Bill Richardson is pretending to play the role of tough on national security, you know Halloween is almost here. It is quite a change from the Richardson who wants to hand off Iraq to the terrorists as quickly as possible regardless of the outcome."
-CNN Iowa Producer Chris Welch