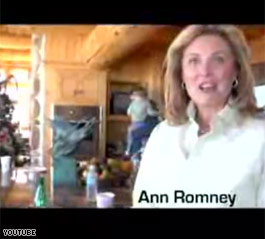 Ann Romney stars in a new Web ad highlighting her large family.
(CNN) – As part of his ongoing effort to reach out to the GOP's conservative base, Republican presidential candidate Mitt Romney released a new Web ad Thursday emphasizing the importance of family values by showcasing his five children and ten grandchildren.
In the ad, the former governor's wife, Ann Romney, states, "Mitt says there's no work more important than what goes on within the four walls of the American home."
The ad, entitled "Our Home," has been posted on YouTube, the official Romney campaign Web site, and Mrs. Romney's personal Web site, AnnRomney.com. It is a montage of both home videos and professionally produced clips of Romney surrounded by his children and grandchildren.
The ad was released a day before Romney is scheduled to attend the conservative "Value Voters Summit" in Washington. The summit, which is sponsored in part by Dr. James Dobson's Focus on the Family and Tony Perkins' Family Research Council, may prove to be an important forum for the Republican contenders to address the role of religion in public life. Romney's Mormon faith is widely perceived to be a concern among many of the conservative Christian activists currently being courted by his campaign.
The former Massachusetts governor drew renewed criticism from his opponents last week for continuing to claim that he is the candidate who best represents the GOP's conservative base.
- CNN Political Assignment Editor Katy Byron