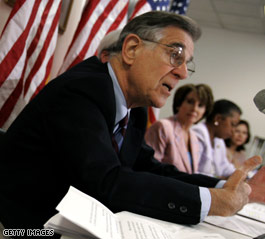 Republicans quickly condemned Stark's comments Thursday.
WASHINGTON (CNN) - Rep. Pete Stark, D-California, is facing fire from Republicans for comments on the House floor Thursday suggesting Americans are dying in Iraq for President Bush's amusement.
Sharply critical of Bush's veto of the children's health insurance legislation, Stark said Republicans are spending money "to blow up innocent people if we can get enough kids to grow old enough … to send to Iraq to get their heads blown off for the president's amusement."
Republican National Committee Chairman Mike Duncan quickly condemned the comments, saying in a statement they are "an insult to every American, Democrat or Republican."
"The leaders of the Democrat Party, including Nancy Pelosi and their presidential candidates, need to stand up and make it clear that this kind of attack is unacceptable from any elected official," Duncan added.
Stark later issued a statement saying, "I have nothing but respect for our brave men and women in uniform and wish them the very best," said Stark. "But I respect neither the Commander-in-Chief who keeps them in harms way nor the chickenhawks in Congress who vote to deny children health care."
- CNN Ticker Producer Alexander Mooney