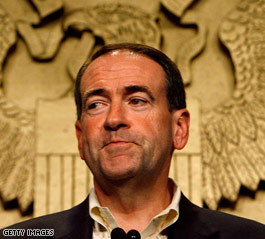 Huckabee said the next terror attack on the U.S. could originate in Pakistan.
(CNN)–GOP Presidential hopeful Mike Huckabee says America needs to remain enagaged with Pakistan, because the next terrorist attack against the United States could come from there.
Appearing on 'Fox News Sunday', Huckabee was asked by Chris Wallace to respond to criticism that he lacks the foreign policy experience that would prepare him for the presidency.
Wallace asked Huckabee how he would approach relations with Pakistan. Huckabee said "we need to keep our eyes on Pakistan. I think we've sort of taken a view that everything is OK there, and it's not OK there," he said. "Let's not forget, it's somewhere in the caves of Pakistan where Osama bin Laden is hiding. The next missile bomb that maybe comes our way, the next terrorist attack, is probably going to be postmarked Pakistan."
Huckabee is scheduled to appear in a debate with his fellow GOP rivals Sunday evening in Orlando, Florida.
On Saturday, he finished a close second in total votes, to former Massachusetts governor Mitt Romney, in a straw poll of conservative voters at the Values Voters Summit, sponsored by the Family Research Council in Washington, D.C. The total numbers included participants both present at the event, and online. Huckabee scored a decisive victory over his rivals, based on votes cast by voters physically present at the summit.
Click here to see CNN's new political portal: CNNPolitics.com
- CNN Political Desk Editor Jamie Crawford