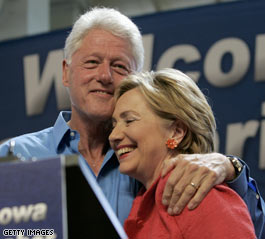 Sen. Clinton said she is 'really happy' she made the decision to stay with husband Bill.
WASHINGTON (CNN) - Former President Bill Clinton is quite the romantic husband, according to wife Hillary.
The Democratic presidential frontrunner discusses her relationship with her famous spouse in the latest issue of Essence Magazine, describing how the former president often showers her with gifts when returning from trips abroad.
"He's so romantic. He's always bringing me back things from his trips," the New York senator told the magazine. "He brought me a giant wooden giraffe from Africa. Oh, he bought me this watch…I had dental surgery, and he said it reminded him of teeth."
Clinton adds she is "really happy" she decided to stay with her husband following the news of his affair in 1996 with then-White House intern Monica Lewinsky.
"Obviously we've had challenges as everybody in the world knows," she told the magazine. "But I never doubted that it was a marriage worth investing in even in the midst of those challenges and I'm really happy that I made that decision."
"Again, not a decision for everybody," she continued. "And I think it's so important for women to stand up for the right of women to make a decision that is best for them."
Clinton also describes her first impressions of the future president when passing him by chance at Yale Law School in 1971.
"I thought he was very attractive. I mean, he was tall. At the time he had long hair and a red beard. His hair was much more red-gold, and it was curly, and he had a vikingesque beard."
- CNN Ticker Producer Alexander Mooney