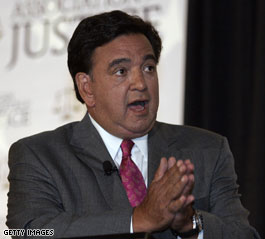 Bill Richardson
WASHINGTON (CNN) - New Mexico Gov. Bill Richardson announced Tuesday that he will donate $10,000 from his campaign's war chest to the Red Cross, and send firefighters from his home state to help fight the California wildfires.
"These fires have been a tragedy for the entire state and my sympathy and concern goes out to the victims and their families," Richardson said in a statement. "We have offered the state of California the full assistance of New Mexico's resources and stand ready to help any way we can."
Richardson is sending two strike teams of firefighters from New Mexico to help protect structures in California. He said they will head to Chino Tuesday night and stay for two weeks.
"New Mexico is fortunate to have no major fires and have the resources available," said Richardson. "Neighbors should help neighbors in their time of need. So, I'm ordering two strike teams to answer's California's request and help fight this unprecedented fire."
- CNN Associate Producer Lauren Kornreich