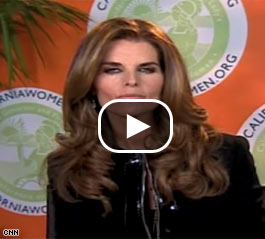 Watch Wolf Blitzer's interview with Shriver in the Situation Room.
WASHINGTON (CNN) - Maria Shriver, wife of California Gov. Arnold Schwarzenegger, told CNN's Wolf Blitzer Tuesday she hopes political spouses influence their husbands' decisions and strategies.
"Do they influence their husband? I hope so. I hope so," California's first lady said. "I hope that that is the kind of marriage that political leaders have, where they listen to their wife or to their husband."
Shriver, who is hosting a joint discussion Wednesday in Long Beach, California with the spouses of the leading presidential candidates, also said she believes first ladies are taking on more substantive roles than in the past.
"I think the days of the ceremonial first lady are over. These are independent women. Several of them have had professional lives long before they found themselves in this situation," she said. "And they don't need advisers to say, 'Don't say this and don't say that.'"
"And they are not shy about saying that they have influence and that they are involved in the strategy of the campaign," she added.
Of the presidential candidate's spouses, only Judith Giuliani, wife of Republican Rudy Giuliani, and former president Bill Clinton, husband of New York Sen. Hillary Clinton, are not slated to attend Shriver's event. Both cited scheduling conflicts.
- CNN Producer Xuan Thai