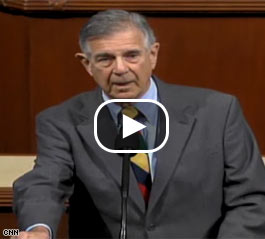 Watch Stark's apology on the House floor Tuesday..
WASHINGTON (CNN) - Rep. Pete Stark, D-California, apologized Tuesday on the House floor for his recent comments saying troops in Iraq were getting "their heads blown off for the president's amusement."
The apology came shortly after House Republicans failed in their effort to formally censure Stark for the remark.
"I do apologize, and for this reason, I think that we have a serious issue before us, the issue of providing medical care to children, the issue of what we do about a war that we are divided about how to end," Stark said. "I hope that with this apology I will become as insignificant as I should be and that we can return to the issues that do divide us, but that we can resolve in a better fashion."
Democrats successfully blocked a resolution by a 196-173 vote to censure Stark for "personally abusive language toward the president and members of the House" and "despicable conduct."
House Minority Leader John Boehner, R-Ohio, said Stark "dishonored our soldiers" and said the House can't "afford to let these kinds of remarks go unanswered."
Stark made the controversial comments during a debate over President Bush's veto of children's health care legislation last week.
–CNN Associate Producer Lauren Kornreich