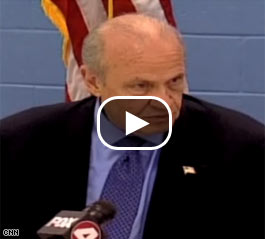 Watch Thompson discuss his immigration plan Tuesday.
(CNN) - Republican presidential candidate Fred Thompson, who in recent days has taken on his opponents over immigration, called for federal funds Tuesday to be cut off for cities that don't crack down on illegal immigration.
Thompson, surrounded by police officers at a roundtable in Naples, Florida, outlined his first proposals on immigration reform. Thompson's plan would address increased enforcement by adding at least 25,000 border patrol officers, doubling the number of Immigration and Customs Enforcement agents, and finishing a wall on the US/Mexico border.
The former Tennessee senator also called for action against so-called "sanctuary cities". He said discretionary federal funding should be eliminated for states and cities that don't report illegal immigrants and said, "We need to tell them, if you're going to have sanctuary cities in violation of the law, you're not getting federal money."
Thompson has directly criticized former New York City mayor Rudy Giuliani for his handling of immigration while in office, and accused former Massachusetts Governor Mitt Romney of not speaking out against sanctuary cities until recently. But rival campaigns returned the favor, attacking Thompson on the issue.
The Giuliani campaign in a statement accused Thompson of not being "consistent or conservative" on immigration over the years, citing Senate votes against employer sanctions and a national employment verification system.
On the campaign trail in Boston, Giuliani said, "I'm the one who can bring about immigration reform. Some of the others have never done anything like the dimension of bringing about immigration reform....they're kind of new to this endeavor."
Romney spokesman Kevin Madden said, "Fred is showing late, as usual, on the sanctuary cities issue, and is probably unfamiliar with all the details as well. Governor Romney has been the strongest candidate when it comes to demanding that our existing immigration laws are enforced."
- CNN Political Desk Managing Editor Steve Brusk