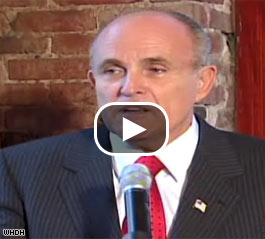 Watch Giuliani explain why he is backing the Red Sox in the World Series.
(CNN) - It may be politically popular in the heart of Red Sox Nation, but that probably didn't make the admission any easier for Yankee fan Rudy Giuliani.
The former New York City mayor acknowledged at a Boston news conference Tuesday he is rooting for the rival Red Sox to win the World Series.
"I'm not saying that just because I'm here in Massachusetts," the Republican presidential candidate said to applause and laughs. "If I'm in Colorado in the next week or two, you will see I will have the courage to tell the people of Colorado the same thing."
He said that, as an American League fan, he always backs the team from the Yankees' league.
Giuliani was in Boston to pick up the endorsement of former state treasurer Joe Malone, in the backyard of challenger Mitt Romney - the former governor of Massachusetts.
On Wednesday morning, the New York media took Giuliani to task for his team turnabout. In front page placements, the New York Post called the former mayor a "Red Coat," and the New York Daily News proclaimed him a "traitor."
- CNN Political Desk Managing Editor Steve Brusk