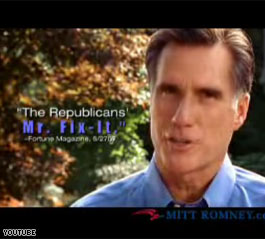 Romney hit South Carolina airwaves with a new ad Wednesday.
WASHINGTON (CNN) - Former Gov. Mitt Romney launched a new campaign ad in South Carolina Wednesday that argues the Massachusetts Republican would use his background in business to cut spending in Washington.
"I come from the business world - where turning around companies taught me how to manage budgets," Romney said in the television ad titled "Business World."
Romney was the founder and CEO of Bain Capital, a highly successful venture capital and investment firm based in Boston. Bain Capital and its affiliates manage more than $50 billion in assets, according to the company's Web site.
Romney also promotes his stint as president and CEO of the Salt Lake Organizing Committee for the 2002 Winter Olympics.
"In Washington, government always spends more. It shouldn't be that way... As president, I'll audit Washington – top to bottom – and cut spending," he says in the ad.
- CNN Political Assignment Editor Katy Byron