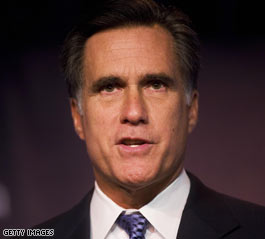 Romney lost the support of a prominent South Carolina minister.
COLUMBIA, South Carolina (CNN) - Dr. Don Wilton, the former head of the South Carolina Baptist convention, recanted his endorsement of former Massachusetts governor Mitt Romney Wednesday, just days after announcing his support.
The Romney campaign has touted Wilton's endorsement, along with that of Bob Jones University president Bob Jones III, as signs that evangelical leaders in South Carolina were putting aside reservations over Romney's Mormon faith and siding with the candidate based on his family values.
In a statement released by Baptist News, a Southern Baptist publication, Wilton said he made a "personal mistake" and that, until now, he had never endorsed a presidential candidate.
"While I did give my consent to the local campaign to use my affirmation of the governor's stance on family values in my capacity as an individual citizen, I made the mistake of not realizing the extent to which it would be used on a national basis," Wilton said in the statement.
He added that: "I will continue to use my personal relationship with the Lord Jesus Christ as the only standard by which I determine who to vote for in any election."
When Wilton endorsed Romney on October 19, the campaign issued a statement from Wilton saying, "While we may not agree on theology, Gov. Romney and I agree that this election is about our country heading in the right direction."
On Wednesday, Romney spokesperson Kevin Madden said he respects the decision.
"Rev. Wilton is a great leader in the community and we respect any decision he makes regarding his involvement with the campaign," Madden said.
In an interview with CNN in February, Wilton discussed his views of Mormonism.
"All politicians are people of deep and abiding personal conviction. I can tell you Governor Romney appears to me to be a man of deep and abiding conviction," Wilton said in the interview with CNN. "I would say that we need to sit down and enter into a dialogue with Gov. Romney, the same way we would enter into a dialogue with anybody who is running for that political office. On a personal level, Mormonism does make me nervous, because I am a Christian, and because the precepts and principles, and more importantly, the practices of Mormonism have cause for great concern."
"But I am going to tell you this. The people of the Mormon religion are very highly astute, highly family-oriented, deeply character-driven people. They are very fine people. This is not a conversation about a person, it is about a religion that drives a person to do what he does," he added.
Wilton went on to say he would want to explore the religious background of any person running for president that participated in a religion different from his. Wilton was the only religious leader in the Spartanburg, South Carolina area that was willing to speak on camera with CNN in February about the potential difficulties Romney may face in that Southern evangelical community.
Even though Wilton's statement retracting his endorsement indicates the pastor did not know how much play his words would get on the national stage, it's worth noting the pastor and his church boast quite a savvy media operation. An in-house multi-camera set-up shoots and broadcasts church services via TV, radio and the Internet, and there is an employee who holds the title Minister of Media.
- CNN's Peter Hamby and Sasha Johnson