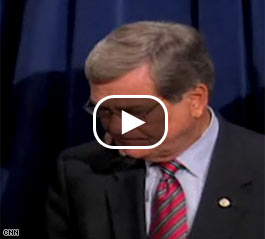 Watch Sen. Lott get emotional in a press conference after Southwick was confirmed.
WASHINGTON (CNN) - The Senate Wednesday confirmed President Bush's controversial nominee Judge Leslie Southwick to the 5th Circuit U.S. Court of Appeals by a vote of 59-38.
Some Democrats, including the Congressional Black Caucus, had opposed Southwick's nomination, raising questions over the racial sensitivity of some of his rulings.
Speaking after the Senate vote, an emotional Sen. Trent Lott praised Southwick, a fellow Mississippian.
"This is emotional for me because this is a good man, he'll make a great judge," the Republican senator said. "On behalf of my state - which I feel has been maligned, in this and other instances - we appreciate it."
Lott later told CNN's Ted Barrett and Dana Bash why he got emotional over this particular judicial nomination.
"I just get emotional when I start talking about what it means to our state," he said. "Some of the statements out there really were just bashing our state. That really hurts. Hurts my feelings, hurts my state."
Meanwhile, Democratic presidential candidates Hillary Clinton and Barack Obama, and GOP contender Sen. John McCain all canceled campaign appearances to be present for Wednesday's vote.
McCain had pushed for the nomination to be brought to the full floor and approved. Political and legal analysts said McCain could be seeking to score points with Southern conservative voters by leaving New Hampshire, a crucial early primary state, to voice his support for the judge.
Clinton and Obama voted "no," along with fellow candidate Sen. Joe Biden. Another Democratic presidential candidate, Sen. Chris Dodd of Connecticut, did not vote.
The seat on the 5th Circuit, which includes Texas, Louisiana and Mississippi, has been vacant for nearly three years. Southwick, 57, is a former state judge and the third person tapped to fill it. He will be based in Mississippi.
Southwick became the latest target of efforts by both parties and a range of advocacy groups to highlight the impact federal judges - especially those who sit on the Supreme Court - can have on a range of hot-button social issues such as abortion, gay marriage and free speech.
The Senate Judiciary Committee narrowly approved Southwick's nomination in August, with Sen. Dianne Feinstein, D-California, providing the deciding vote.
Race has played a role in the president's controversial efforts to fill this particular seat. Each of the three nominees, including Southwick, are white, and each has been accused of racist views or insensitivity to civil rights.
No African-American has ever been nominated from Mississippi, despite it having a 37 percent black population, one of the highest percentages in the United States.
Currently five women, three Hispanics, one African-American and five white males make up the 14 active judges on the New Orleans-based court.
- CNN's Bill Mears and Steve Brusk