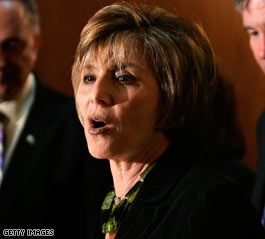 California Sen. Barbara Boxer praised Schwarzenegger's response to the fires.
WASHINGTON (CNN) - Key senators Wednesday praised the federal government's emergency response to the Southern California fires - in sharp contrast to their negative reaction to its slow response to Hurricane Katrina.
"To this stage, I am satisfied with the response," said Senate Majority Leader Harry Reid, who was a vocal critic of the White House's response to Katrina.
"I believe lessons were learned from Hurricane Katrina," said Sen. Trent Lott, the Senate's second-ranking Republican who lost his own Gulf Coast home to Katrina.
"What I see happening long-distance, just looking at the media, it looks to me like the administration is responding aggressively and appropriately in trying to help the people of California with this fire," he said.
Even Sen. Barbara Boxer, D-California, who in the past has raised concerns about having so many National Guard troops serving in Iraq and not available to respond to a natural disaster in California, said she is pleased.
"Because of the governor's swift action," Boxer said, "we have enough personnel at our disposal."
The senators praised Homeland Security Secretary Michael Chertoff for going right to California with his Federal Emergency Management Agency director, David Paulson, to help marshal the response.
"I think that sends a good message to the American people," Reid said.
Lott said it's also important that President Bush plans to visit the scene Thursday.
California's other senator, Democrat Dianne Feinstein, said the response shows the federal government "has really learned from Katrina."
She said she's concerned about reports that not enough aircraft are available to fight the fire but said Bush was right to quickly declare an emergency and issue orders to provide assistance to homeowners who need help with rent and rebuilding costs.
"That's a big step forward," she said.
- CNN Congressional Producer Ted Barrett