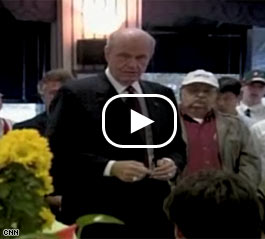 Watch Thompson on the stump in South Carolina Wednesday.
BLUFFTON, South Carolina (CNN) - SEC Football. This crucial issue has dogged former Senator Fred Thompson in his quest win over voters in Florida and South Carolina, two early voting states that happen to be crazy about college football.
As a Tennessee native and a fan of the University of Tennessee Volunteers, Thompson is predisposed to rooting against the Gators and Gamecocks, two die-hard conference foes.
He's tip-toed around the issue before.
According to The Politico, during a September campaign stop in Florida, Thompson told Gator fans "we can both do our best to beat the ole ballcoach." The "ole ballcoach," of course, is former Florida coach and current South Carolina play-caller Steve Spurrier, who is leading the South Carolina team to their best season in years.
Thompson walked into SEC enemy territory again on Wednesday, making three campaign stops along the South Carolina coast. This time, he sang Spurrier's praises.
"I'm a big fan of the ole ball coach," Thompson told a football fan outside the Sippin' Cow Café in Bluffton. "I got a chance to meet him when he was coaching the Washington Redskins, and things didn't go too well there, but the guy's a college football genius. And I'm always intrigued by what kind of formations he's going to come up with."
But Thompson was up front about yet another football allegiance that South Carolinians won't be too happy about.
After bringing up South Carolina's 17-6 loss to Vanderbilt on Saturday, which dropped South Carolina out of the top ten in national rankings, he caught himself.
"I heard myself say that and I decided I really ought to keep my mouth shut, because I went to Vanderbilt law school, so I couldn't help but to smile a bit when I saw the score," he said.
Later in the day, Thompson was asked the most important question of all: Who does he want to win this weekend's match-up between South Carolina and Tennessee?
Thompson jokingly avoided an answer: "OK, I think we're out of time!"
- CNN South Carolina Producer Peter Hamby