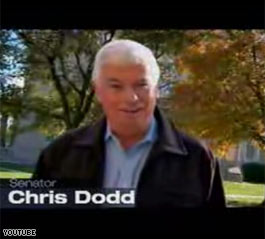 Dodd says his white hair is the product of his experience.
DES MOINES, Iowa (CNN) - According to a new campaign ad out Wednesday in Iowa, it's due in part to his 26 years on the Senate Foreign Relations Committee.
The commercial–set in a barbershop in Winterset, Iowa–features two men discussing why they think Democratic presidential candidate Chris Dodd's hair is the color it is.
"No, I didn't get the white hair from the Peace Corps or the military," the senator from Connecticut says walking down the street.
"It was Dodd who passed the Family and Medical Leave Act," a barber says back inside the shop. "You know it took getting Democrats and Republicans together to get that done."
"I got a lot of white hairs from that one," Dodd adds.
But it's not just his experience the ad focuses on, it also tries to speak to his electability.
"And if he got nominated," the barber continues, "we'd have a Democrat who could win."
In addition to running in the Hawkeye State, the 60-second advertisement will play nationally on various cable networks.
Dodd, who recently rented a house in Des Moines for his family, has consistently polled in the single digits in Iowa.
-CNN Iowa Producer Chris Welch