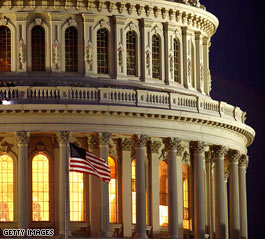 Congress' approval rating stands at 22 percent.
WASHINGTON (CNN) - It may not come as a surprise that a new poll shows Americans think Congress is doing a pretty lousy job.
A CNN/Opinion Research Corporation poll released Friday shows the approval rating for all members of Congress sits at a dismal 22 percent, while 75 percent of those surveyed disapproved of the way Congress is handling its job. (Read full poll results [PDF])
"The big issues of the day just don't seem to be being addressed," said Sarah Binder, a political science professor at George Washington University who studies Congress. "The issues that matter most to people - the economy, health care, the environment and the larger war in Iraq - it is so difficult for Congress to move on those issues that I believe the public looks and says 'why aren't they doing anything?'"
Even though the overall approval rating of Congress leaves much to be desired, Democrats can find a bit of a silver lining in the new survey. Approval of congressional Democrats stands at 43 percent, twice that of Congress in general. The flip side, however, is that the congressional Democratic leadership still faces a disapproval rating of 51 percent, a figure that has increased 11 percentage points since March.
"I think it is important to remember that when Congress performs well, when it actually addresses the big issues of the day, it tends to be rewarded in the public's view of Congress," said Binder. "If today's approval ratings are down in the dumps, we probably shouldn't be surprised. On the big issues of the day, Congress doesn't seem to be doing very much."
The poll, conducted October 12-14, surveyed roughly 600 Americans and carries a margin of error of plus or minus 4.5 percentage points
- CNN Senior Political Producer Sasha Johnson