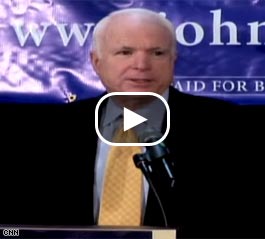 Watch Sen. McCain and a fellow Vietnam war POW discuss McCain's time in captivity.
(CNN) – At a campaign event in Iowa Friday, Sen. John McCain, R-Arizona, commemorated the 40th anniversary of the day his U.S. Navy airplane was shot down – a day that also began McCain's five years of captivity as a prisoner of war during the Vietnam war.
"Many years ago, on this day, I was able to intercept a surface-to-air missile with my own airplane," joked McCain, "which was no mean feat to say the least." McCain was seriously injured in the crash but he survived.
"I came out of the Vietnamese 'hospital' in very bad condition," McCain said Friday.  He was placed in a cell with two other American POW's.  They "literally saved my life and nursed me back to health," a humbled McCain explained.
Col. Bud Day, one of McCain's two cellmates, also spoke at the event. "When they brought him into the room, he was basically on the verge of death," Day explained to the McCain supporters gathered Friday.
Related: McCain counters 60's counterculture with service and sacrifice
Click here to see CNN's new political portal: CNNPolitics.com
–CNN Associate Producer Martina Stewart