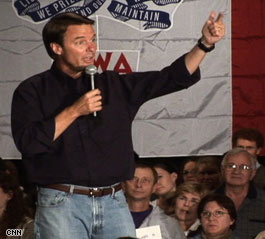 Edwards, seen here speaking in Des Moines Saturday night, criticized Clinton once again.
DES MOINES, Iowa (CNN) - At a rally Saturday night touting the fact that he's been to every Iowa county, Democratic presidential candidate John Edwards once again criticized Democratic opponent Sen. Hillary Clinton, D-New York, on Iran. At issue: Clinton's vote in support of a recent Senate amendment. And this time Edwards' criticism stirred some clear anti-Clinton sentiment.
The amendment–sponsored by Sens. Joe Lieberman, I-Connecticut, and Jon Kyl, R-Arizona–calls for labeling the Iranian Revolutionary Guard a terrorist organization.
The former North Carolina senator first commended senators Joe Biden, D-Delaware, and Chris Dodd, D-Connecticut, for voting against it, but he then added, "Sen. Clinton voted 'yes.'"
That statement was followed by an immediate round of booing.
"She's entitled to her opinion," Edwards said over the noise. "But I share your opinion."
Edwards claims the amendment would "pave the way for Bush to continue to march forward on Iran."
"I didn't understand it," Edwards said. "And then I saw a story in the New York Times [that] quoted some of her supporters explaining why she did it, and the explanation was–I want to get this right–that she was moving from primary mode to general election mode."
A New York Times article from October 14 claimed Clinton's backers have said privately that she is now switching to general election mode, which would imply she's running as the presumptive nominee.
That prompted one supporter to shout, "Like hell!"
"Yea. Thank you," Edwards said in response.
"Was I asleep in North Carolina when you had the Iowa Caucus? I don't think
so."
"I think we're going to have a real election and a real campaign here in Iowa. I can tell you one thing, I will never take a single Iowa caucusgoer for granted."
-CNN Iowa Producer Chris Welch