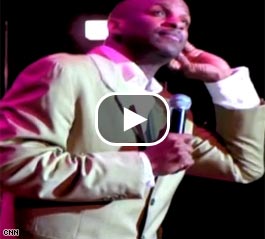 Watch Donnie McClurkin address the controversy surrounding him at Sunday night's concert.
COLUMBIA, South Carolina (CNN) - The controversial Gospel singer at the center of a gay and lesbian backlash against Sen. Barack Obama's presidential campaign struck back at his critics Sunday night, saying that he has been "vilified" and declaring that "God delivered me from homosexuality."
Rev. Donnie McClurkin, who headlined the final installment of the Obama campaign's "Embrace the Change" Gospel concert series, did not comment on the controversy until the just before the concert's finish, when he told the crowd of about 2,500 African-Americans: "I'm going to say something that's going to get me in trouble."
"They accuse me of being anti-gay and a bigot," McClurkin said. "We don't believe in discrimination. We don't believe in hatred, and if you do you are in the wrong place at the wrong time. That's the whole premise of God. That's the whole premise of Christ is love, love, love. But there is a side of Christ that deals in judgment, and all sin is against God."
McClurkin has said that homosexuality is a choice and that he overcame homosexual desires through prayer, comments that drew fire from gay and lesbian activists and caught the Obama campaign, which has been using faith to reach out to African-American voters, off guard.
The Grammy-winning singer said Sunday his words had been "twisted."
"Don't call me a bigot or anti-gay, when I have been touched by the same feelings," McClurkin went on. "When I have suffered with the same feelings. Don't call me a homophobe, when I love everybody ... Don't tell me that I stand up and I say vile words against the gay community because I don't. I don't speak against the homosexual. I tell you that God delivered me from homosexuality."
McClurkin's words drew raucous applause from the crowd, who had lined up around the block to get into the Township Auditorium in Columbia.
Although a small demonstration led by the South Carolina Gay & Lesbian Pride Movement had gathered across the street from the concert venue, they were dwarfed by the crowd of black Gospel fans and Obama supporters who turned out to see the performance.
Meanwhile, Obama staff were inside and outside the building, working the crowd and trying to register new voters.
Nearly all of the African-American concert-goers interviewed by CNN expressed support for McClurkin. Some referenced the First Amendment, saying McClurkin had the right to say what he pleased. Others agreed with McClurkin and said that homosexuality is a choice. Several more invoked the Bible and said homosexuality is simply wrong.
A September poll conducted by Winthrop University and ETV showed that 74 percent of South Carolina African-Americans believe homosexuality is "unacceptable."
Michael Vandiver, president of the South Carolina Gay and Lesbian Pride Movement said that he was disappointed by Obama's refusal to take McClurkin off the bill, but that he hopes it will be an opportunity for new dialogue.
"This is not a protest of Senator Obama, but rather a vigil in opposition of Reverend McClurkin and his statements on homosexuality," Vandiver said before the concert. "We're also here to show our support for Rev. Andy Sidden."
Sidden is the white, gay pastor added to the concert bill as a last minute compromise by the Obama campaign. Sidden's appearance was notably brief and anti-climactic: He said a short prayer to the auditorium at the very beginning of the program, when the arena was only about half full, and then he left.
Obama, while not present, appeared on a videotaped message to the crowd, saying, "The artists you're going to hear from are some of the best in the world, and favorites of Michelle and myself."
McClurkin said during the concert that he had been introduced to Obama by Oprah Winfrey.
- CNN South Carolina Producer Peter Hamby