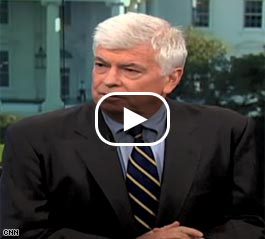 Watch Sen. Dodd in the Situation Room Monday.
WASHINGTON (CNN) - Democratic White House hopeful Christopher Dodd visted the Situation Room Monday and spoke with Wolf Blitzer about Attorney General nominee Michael Mukasey. 
Dodd said concerns about Mukases views on waterboarding was "a legitimate issue and one that ought to be pursued." 
"But Wolf, I have a deeper problem with Michael Mukasey," explained Dodd before summarizing Mukasey's views on the president's authority to engage wiretapping without proper authority under the governing federal statute.  
 "There's nothing more basic in our Constitution than we are a nation of laws and not men," Dodd said.  The Connecticut senator called the President's obligation to obey the law "the major issue here" with Mukasey's nomination. 
"If you believe that the President can trump a federal statute, you're violating the most basic, fundamental principle," Dodd emphasized.  Dodd told Blitzer that he would vote against Mukasey's nomination because of Mukasey's views on presidential power.
Click here to see CNN's new political portal: CNNPolitics.com
–CNN Associate Producer Martina Stewart