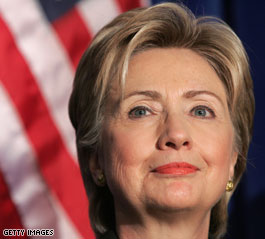 Clinton scored a big endorsement Wednesday.
WASHINGTON (CNN) - Democratic presidential candidate Hillary Clinton received the endorsement of the American Federation of State, County, and Municipal Employees Wednesday.
The union's endorsement was one of the most sought after by Democratic presidential hopefuls, and with another influential union - the Service Employees International Union - refraining from granting a national endorsement, AFSCME's nod becomes an even greater prize.
Donning a pair of red boxing gloves while accepting the endorsement, the senator from New York told the audience, "when it comes to fighting for America's families, I'll go 10 rounds with anybody."
AFSCME President Gerald McEntee told the audience that "this is no time to take chances. We need someone who knows how to fight and indeed knows how to win."
"Sen. Clinton is a season fighter," continued McEntee. "Believe me, she knows how to fight and she knows how to win."
AFSCME has a membership of 1.4 million people and provides the Democratic frontruner with another major union endorsement. Clinton has already received the backing of the American Federation of Teachers, International Association of Machinists and Aerospace Workers, and Allied Craftworkers, and the United Transportation Union, among others.
Union endorsements play an important role in presidential campaigns, often leading to an infusion of support for the campaigns - especially in the form of ground troops to help get out the vote efforts.
But union endorsements don't necessarily lead to victory on Election Day. AFSCME and SEIU both endorsed then-Democratic presidential candidate Howard Dean for president in 2004. Two months later, after defeats in Iowa and New Hampshire, and poor showings in several other states, Dean dropped out of the race for the White House.
- CNN's Xuan Thai and Paul Steinhauser