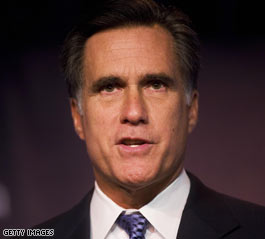 Romney met with potential supporters Wednesday night at a house party in Adel, Iowa.
ADEL, Iowa (CNN) - Republican presidential candidate Mitt Romney said Wednesday that if he does well in Iowa and New Hampshire "and then on in Michigan and South Carolina, the whole nation would move toward my campaign."
"Because people will say 'Gosh, I haven't looked at this guy. Let's get to know him better," Romney said.
"The test that comes from the early states will either give me the momentum I need to go on and become our nominee or give that momentum to somebody else."
Romney spoke highly of the current nominating system, saying it allowed people in early-voting states to make decisions after meeting candidates face to face. He added that he's made 462 total stops in Iowa and New Hampshire.
"I like the fact that you select the nominee not based on just what you see on TV, but instead based on meeting candidates in living rooms and in town meetings."
Incidentally, the former Massachusetts governor leads all other candidates in terms of money spent on TV commercials so far in this election cycle.
Romney–the consistent Republican front-runner in both Iowa and New Hampshire–made the comments to a group of about 75 people at a house party in Adel, Iowa. It kicks off another couple of days stumping throughout the Hawkeye State.
-CNN Iowa Producer Chris Welch